The Zeppelin
Exhibition Design for Unfair18. A four day exhibition, showcasing the work of 40 up-and-coming contemporary artists at Westergas, Amsterdam...
Location: Amsterdam, The Netherlands
Client: Unfair
Type: Invited competition
Year: 2017
Status: Concept
Program: Scenography / Exhibition Design
Team: Cédric Van Parys , Anne Dessing
Concept
Concept
Office CCXD and Studio Anne Dessing were selected to develop an exhibition design proposal for UNFAIR 2018 in the Zuiveringshal, Amsterdam.
The empty hall felt like a hangar for an aircraft or a zeppelin. A crucial aspect of this type of architecture is that it felt as it was built around the airship. Since greater size meant greater efficiency in long distance operations, the challenge was to create an airship with the largest possible gas capacity that could be built within the confines of the construction shed. We liked to think that "The Zeppelin" was missing and our exhibition proposal would be just that; a singular object, like an airship that just fits in the Zuiveringshal.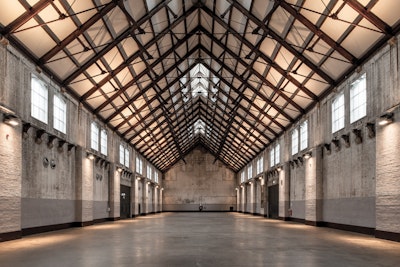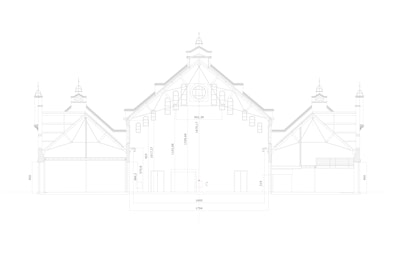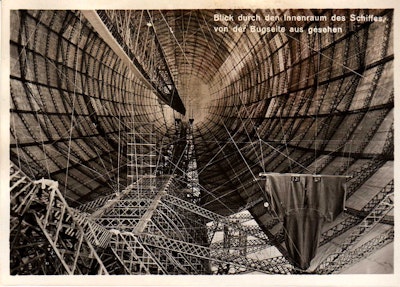 Design Strategy
Design Strategy
Within this concept, our design strategy was based on one crucial aspect of Unfair: "The artists are the ruler of their own presentation". We took this very serious, and rather than creating one space for 40 artists, we created 40 identical rooms. The entire plan is transformed by rotating a selection of spaces around its geographic centerpoint.
Because of these manipulations certain rooms penetrate the adjacent rooms, creating overlaps and openings. Eventually our final plan consists of only four types of triangular display structures. This generates an exhibition which is build with objects, not with walls, creating a radically different experience for the visitors.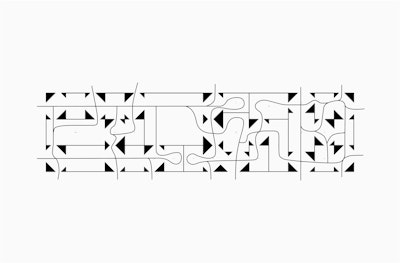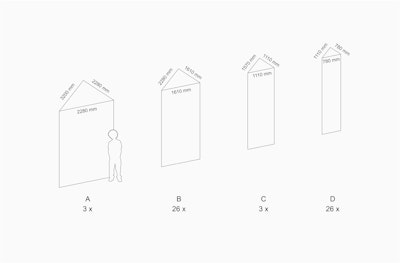 The Free University of Berlin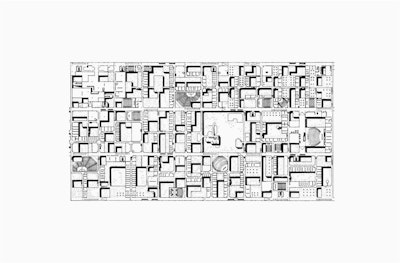 (Candilis, Josic, Woods and Schiedhelm – 1963) Based on the model of an Arabic Medina.
Theatrical Curtain
Theatrical Curtain
The unearthly and mystical qualities of the Zeppelin are enforced by a curtain encircling the exhibition. As a theatrical device the curtain unifies the concept (Zeppelin) and spatial strategy (40 spaces) into a monumental exhibition-object. It's a trip through a different universe.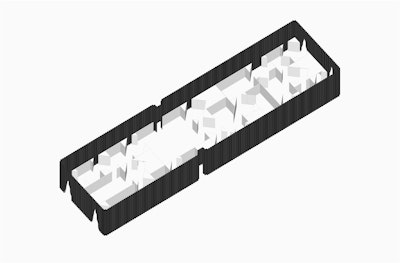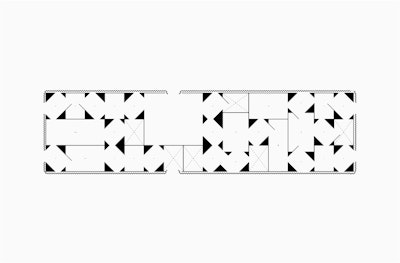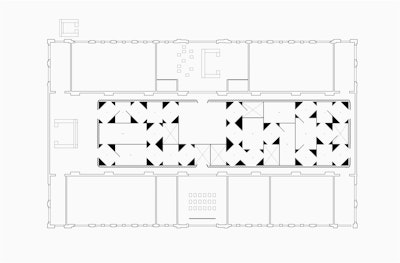 All projects