Nothing New Under the Sun
Scenography at Collectible Design Fair 2020
Location: Vanderborght Building, Brussels, Belgium
Year: 2020
Program: Scenography / Display design
Status: Completed
Collaborators: Lu Liang, Collectible Design Fair, Marianne Turck
Photography: Lukas Claesens , Riccardo De Vecchi, Tools for Progress
About
About
TOOLS FOR PROGRESS is a laboratory for art and design based in Rotterdam (NL) and founded by Cédric Van Parys and Lu Liang. Inspired by architectural elements and natural landscapes, we make objects and scenographies. The spatial assemblages deliberately obfuscate the boundary between the object/product and presentation/ display system, always creating a holistic exhibition experience.
TFP's latest collection explores a desire to imitate nature by presenting a series of small dual displays. Sculpted from anthracite and subsequently casted in aluminum, each twin "shelve" is unique and can be used to display any precious or peculiar object. Unlike the widely applied marbles, travertine and onyxes, this material has a specific "aura" which is comparable to the Chinese scholar's rock (gongshi). It is a stone shaped by natural forces, which is appreciated for its particular appearance.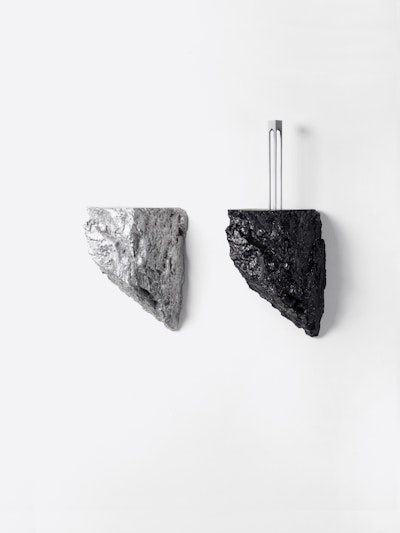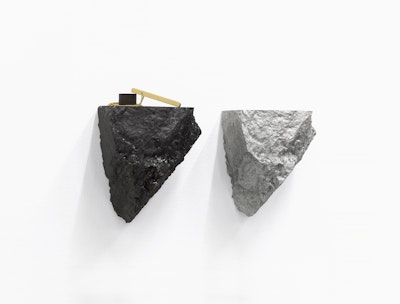 Scenography
Scenography
Whilst the original coal rock is unique and permanent, the casted aluminum rock is transitory and reproducible. By placing them next to each other Nothing New Under the Sun stimulates a series of thoughts. Together they celebrate the surrealistic transformational processes of nature.
It is obvious that this work communicates philosophical and visual aspects of surrealism and this is emphasized in the scenography for the Collectible Design Fair in Brussels. The arched ashtrays and the upscaled billiard balls —a collaboration between Tools For Progress and artist Marianne Turck—create an element of surprise and intensify the uncommon juxtapositions.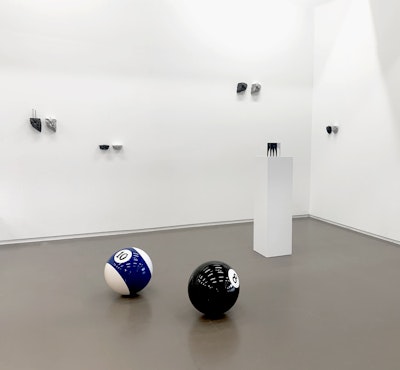 All projects